Yvonne Ho AM, Keynote Speaker & MC
---
Speaker CV - Summary:
As well as running Charteris Music School and consulting in radiology/nuclear medicine, Yvonne is an inspirational speaker who is frequently invited to speak to audiences ranging from tens to thousands of people. As an Australia Day Ambassador, she is highly sought after, and speaks at business network seminars, multicultural events, educational functions, corporate conventions as well as at major conferences nationally and internationally.
She tells stories from her childhood, her education and living in various countries, her journey as a ethnic minority woman in male-dominated career paths, her challenges and enterprises in order to illustrate keypoints.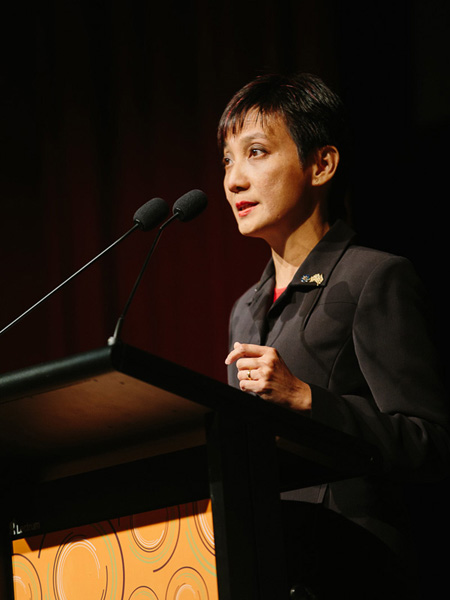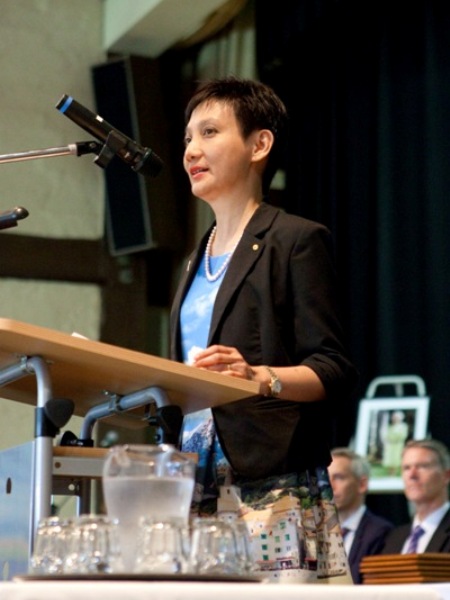 She has a warm and engaging style of delivery and her presentations draw laughter and tears. She is asked many questions by her audience.
Yvonne's will, inner strength and courage shine through her presentations. With her medical expertise in understanding human behaviour, she is also able to motivate and inspire her audience to jumpstart their dreams into reality.
Yvonne always customises each speech and can develop a keynote topic to suit your specific audience.
---
Selected Previous Interviews, Talks & Speeches By Yvonne
Following on from her success at the Melbourne Professional Development Forum, Dr Yvonne Ho AM was invited to speak at the Sydney Professional Development Forum, where she gave practical advice about how one can achieve a fulfilling career for himself or herself.

VENUE: Australian Institute of Professional Education - AIPE, 160 Sussex Street, Sydney NSW 2000.
Dr Yvonne Ho AM was invited to speak at the Chinese Association of Victoria (CAV), to inspire the development of leadership capabilities, advance the careers of young professionals and create a network of professionals and mentors with similar interest.

VENUE: CAV Centre, 8 Ashley Drive, Wantirna, VIC 3152.
Career success is not a subject matter that can be learnt purely from textbooks. Drawing upon her own passion and experience in embracing parallel careers in medicine and music and as co-founder of an international marketing firm, Dr Yvonne Ho AM spoke about her formula for success and discussed the highlights and challenges of balancing such careers.

VENUE: Performance Education, Level 2, 277 Flinders Lane, Melbourne, 3000
Yvonne has been and continues to be Australia Day Ambassador for the state of Victoria. She is honoured to be part of our government program that provides a unique opportunity for Victorians to meet inspirational Australian achievers ...
Yvonne was interviewed by ABC TV and featured on the International Women's Day episode of 'Talk About It', together with Senator Penny Wong. 'Talk About It' discusses issues trending in the Asia-Pacific region. It airs on Australia Network, part of ABC International, beaming 24/7 to more than 44 countries across Asia-Pacific. ...
---
Speaking Topics Include The Following:
Multiculturalism:
• Working in Asia: An Australian-Asian Perspective
• Building a New Life: Tips for the New Immigrant in Australia
• How to Succeed Internationally
Work-Related Themes:
• Codifying Success
• How Do I Fit It All In?
• A Second Career
Women-oriented Themes:
• Rose Amongst the Thorns? Working in Male-dominated Fields
• How Do I Fit It All In?
• On Being Woman and Being Minority
Themes for Parents and Schools:
• More Than Just Music Lessons - Expanding the Minds of Children
• Butcher, Baker and Candlestick Maker - Careers of the Future
Other Topics:
• Co-create one with Yvonne
---